Post by Metal Angler on Nov 17, 2006 9:46:52 GMT -5
This is good stuff!!
Any one else try it yet? Its a good all year round line! Best i have tryed besides my old favorite STREN ;D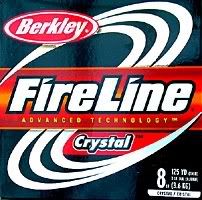 [glow=red,2,300]Berkleys fireline crystal[/glow]
heres what BERKLEY had to say about it below
Berkley FireLine is unlike anything you've fished before. It's stronger than monofilament. It casts farther. And it handles as well -- even better in some situations. It doesn't create birds nests by digging into your spool. And it ties easier knots, makes smoother casts, and stays hassle free in any kind of weather. And FireLine is as durable as it is versatile. It won't deteriorate over a lifetime. Ultra-light rays or sunlight won't affect it. And neither will the cold. No other line delivers this combination of easy handling, castability, super strength and sensitivity. And no tackle box should be without it.

This line has virtually no memory and no stretch. One of the more popular uses of FireLine is for trolling with Dipsy Divers because it has no stretch.

We stock FireLine in Crystal in 1, 2, 3, 4, 6, 8, 10, 14 and 20 pound test, in either 125 yard "filler" spools and 300 yard "economy" spools. We also stock 4, 6, 8, 10, 14 and 20 pound test in 1100 yard "bulk" spools.

The specifications for this line are in the table below. "Comp. Diam." refers to "comparable diameter." We provide the comparable diameter of the line if it were monofilament. For example, 20 pound test FireLine has a diameter which is comparable to the diameter of 8 pound test monofilament.
SO ya if you need a good ice line Check out
[glow=red,2,300]Berkleys fireline crystal[/glow]